This post may contain Amazon® product affiliate links. We may receive a commision if you make a purchase after clicking on one of these links but at no cost to you. Please visit Our Privacy & Disclaimer Page for more information. Thank you.
Here is our list of the top rated best dog clippers available
Buying a pair of dog clippers can seem like a great investment for any pet owner that is fed up of the cost of grooming and wants to have a go themselves.
The problem is that there are so many products out there claiming to be the fastest, strongest, quietest and most effective clipper available.
The best options are the ones that are the most well-rounded with multiple benefits and scores of positive reviews.
The trouble is that these promising models can get buried beneath the "cheap and cheerful" options.
The following guide will take a look at the top rated dog clippers on the market from the best, and most respected brands.
By comparing the selected clippers, you should be able to get a better idea of the similarities between the appliances, some of the key differences and some other important considerations to think about when buying a pair of clippers.
1. Andis AGC Super 2-Speed Dog Clipper
The first pet grooming clipper to look at here is one that is seen as a simple, all-round model from one of the leading brands.
In many ways, this is quite a simple model because of its basic shape, the 2 speed motor and the 14'' cord. On the one hand, this make the product accessible; on the other, there is a lack of accessories.
The reason that it is appealing to dog owners is that it claims to be "perfect for all coats" and comes with a number of additional sales promises with both owner and pet in mind. It is designed to be cool, quiet, easy to use and shatter-proof.
Another interesting element of this Andis AGC Super 2-Speed Dog Clipper is the idea that it is "virtually maintenance-free". The drive cap is removable for easy cleaning and there are now vents to clog up with hair.
A large majority of buyers agree with most of these notions, and there are many positive reports about the ease of handling and the results of the blade.
There are owners creating decent cuts on toy dogs and others with minimal experience getting to grips with the thick coats of large working dogs.
The learning curve here is clearly pretty small and users quickly get over the fact that the product is heavier than expected.
The biggest problem seems to be the fact that the lack of ventilation has a negative effect on the heat produced. This is not the cool-running model advertised and does require plenty of blade oil.
2. Oster Pro 3000i Cordless Clipper

Read Reviews
The Oster Pro 3000i Cordless Clipper is sold as a high performance tool for a great result. The name and look are certainly enough to draw plenty of consumers in.
It has an attractive cordless design for ease of operation, with a charging dock and replaceable battery. There is also the promise of a lightweight, comfortable design with a nice feel. Does it perform as hoped for?
The Pros and Cons of this Oster Dog Clipper:
Pros:
this is a nice cordless device with helpful charging dock
it offers a good, powerful cut with a strong blade
it should be versatile enough for different cuts.
Cons:
the body is a bit too long and unbalanced
it needs a better manual
There are plenty of dog owners achieving a great cut with this cordless Oster Pro 3000i.
The main selling point with this model has to be that cordless approach and charging dock. Oster claim that this Pro 3000i will operate continuously for more than 2 hours.
Buyers seem pretty happy with the battery life and power that comes with it. There is also the benefit of the quick charge so that they aren't left waiting too long between cuts. On that note, the battery is detachable so it can be replaced as needed.
The power of this device also comes through in the results. This model has a Cryogen-X Blade for a good clean cut, which is driven by this strong motor and impressive rate of 3000spm.
Buyers should note that there is only a single speed option. This means that there is no chance of bringing it down on nervous pets, or speeding it up for show cuts.
Still, many users are happy with the speed offered. Other talk about versatility for different coats and needs, and this comes through in the feedback from groomers.
The problem is that this performance is a little limited due to the Oster Pro 3000i Cordless Dog Clipper's shape and poor instructions. 
The main problem with this nice looking design is that Oster clipper seem to have concentrated more on the aesthetics of the piece, rather than the ergonomics.
There are some that note that this is a longer, slimmer design than some other clippers, and it doesn't quite feel right in the hand.
The slippery texture doesn't help either. Then there are those that criticise the instruction manual that comes with the product. Some feel that it does a terrible job of explaining the functions and capabilities.
What does this negativity mean for a final verdict on this Oster Cordless Clipper?
There are some clear risks with this device that all buyers need to keep in mind. For a start, there are some concerns that the odd weight and feel of the device could make it dangerous in the wrong hands.
Then there are those that could be missing out on options and grooming techniques via that poor manual. Even so, those that get to grips with this Oster Pro 3000i Dog Clipper – figuratively and literally – can achieve a great cut and enjoy the benefits offered.
3. Andis EasyClip Pro-Animal 5-Speed Clipper

Read Reviews
The Andis EasyClip Pro-Animal 5-Speed Clipper sounds like a good dog clipper with all the basic components. It has a powerful motor with 5 speed settings and 2,500-4,500 strokes per minute.
It also comes with a detachable CeramicEdge #10 blade and a strong cord. This should be ideal for quick, clean cuts at home, but does it meet expectations?
The Pros and Cons of this Andis Clipper:
Pros:
offers a great cut on a range of coats – despite the blade
light weight feel and decent balance
not too noisy
Cons:
strange design on the power button
heats up far too fast
This Andis 5-Speed Clipper has a good, basic built and adjustable blade for a great cut on different coats.
The main benefit with this clipper has to be quality of the cut and the results achieved. There are many buyers pleased with the way that the motor and speed settings handle difficult coats. However, it should be noted that this is best achieved with a different blade.
Andis ship a fairly standard ceramic blade in the box, which might not do the job. Luckily, it is easy enough to attach something more suitable. There is also the bonus of a lack of noise from the blades and motor, which is important when we consider the security of the animal.
Others are pleased with the design and feel of this model. The cord is pretty long and tough, so shouldn't cause too many problems for users with larger dogs. They also like the light weight, which is just 12.5oz, and feel there is a good balance on the design. It also helps that there is a soft-grip cover for easy handling.
It would just be more convenient for all concerned if this Andis EasyClip Pro-Animal 5-Speed Clipper didn't heat up so much.
Aside from the issue with the blade, the biggest problem with this pair of clippers has to be amount of heat generated.
There are far too many comments from users that have to watch the temperature, even on the medium setting. This means that there is the risk of burns, unless users turn the device off for a little while. This is where it is interesting to read the tips in the description again.
Users are advised to use "lower speeds for cooler running and clipping around sensitive areas", which highlights the possibility of higher heat on higher speeds. Those higher speeds, designed for "a prettier coat finish", come at a price.
There are also a few users that are annoyed with the design of the power button. It is difficult to use with one hand, which is an issue when controlling a sharp blade and a pet dog.
What does this mean for a recommendation for this Andis EasyClip Pro-Animal?
It is important to remember that this is an older model of clipper. Some dog owners may come into this purchase expecting a bargain, and leave disappointed with the performance. Many have come to expect a lot more from this brand in terms of the quality and safety.
With a better blade and a lower speed, some users can get a lot from this clipper and create a quality show cut. Others would rather skip over this Andis EasyClip Dog Clipper to a more expensive, modern alternative.
4. Oster A5 Turbo 2-Speed Dog Clipper
If the Andis model was appealing because of its all-round performance on different dog coats, the Oster A5 Turbo may seem a little alarming on first impressions.
It is currently ranked at the top model in its class on Amazon, but that class is Horse Care Clipper.
The truth is that this model was designed for farming and livestock care, but the strength, quality and other benefits mean that there are plenty of happy dog owners using this too. Power is clearly a major selling point to this rugged-looking device.
In addition to the universal rotary motor, this Oster A5 Turbo 2-Speed Dog Clipper provides over 4000 strokes per minute. This all suggest that the clippers are capable of a quick, effective cut and buyers say that it makes short work of thick coats like poodles, huskies and German Shepherds.
On the other side of the coin, there are complaints from toy dog owners who, unsurprisingly, found that these tough livestock clippers didn't have the precision needed.
What makes this system even more interesting to pet owners is the fact that it also seems to have a gentler side. Like the Andis, it promises cool running for the safety of pets and also has an antimicrobial coating on the blade.
There are mixed reviews about the noise and heat produced, but many dogs don't seem to be affected. Some see a little heat as the compromise for the quick, powerful action. This is not a great choice for nervous show dogs, but ideal for quick jobs on larger working animals.
5. Wahl ARCO Cordless Dog Clipper Kit
Check Amazon Price
In many ways, this cordless Wahl model is the exact opposite of the Oster model above.
Where that one was tough, rugged and imprecise for more basic needs, this one is designed for a clean, attractive cut on smaller animals. This means that it is pretty easy to handle to help with that precise finish.
This is a 5-in-1 kit, which means that it is able to do more than the basic cuts, and this means that it is the ideal choice for working around the face and feet of smaller dogs and getting a neater finish.
This use on smaller, more nervous dogs means that promise of cool running blades and an "exceptionally" quiet operation are even more important.
This time it seems that the Wahl Professional Animal ARCO Cordless Clipper is able to live up to both claims very well and buyers are happy to use it on their pets.
This different approach meant that this dog grooming clipper has an entirely different look that will appeal to at-home groomers.
It is cordless with a slim, good-looking body and weighs just 7.9oz. The handling of this model is pretty good, and even first-timer users are clipping difficult areas with ease.
The problem with this weight and design, however, is that the casing is nowhere near as tough as that of the other models. Many buyers have experienced breakages as the thin plastic housing cracks under the pressure of the motor. This means that the product may not have a long life.
6. Wahl Lithium Ion Pro Series:

One of the key selling points with this Wahl model has to be the complexity of the kit that comes with the clipper. This is a rechargeable model with a small adapter, and promises to be up and running in a little as 15 minutes.
This, along with the case, makes this the ideal portable kit for groomers travelling between clients. The kit also includes scissors, colour-coded combs and blade oil.
When charged, the device should have a 2 hour run time for longer jobs. The cordless, ergonomic design is great for easy handling with different sized dogs. The blade is also quite versatile for different coat types.
The ability to handle thicker coats, such as those of poodles, also comes from the power of the lithium motor. Furthermore, the blades are self sharpening, which should increase their potential and longevity.
7. Oster A6 Slim Clipper:

Many dog groomers will be drawn to this Oster clipper because of the look and shape. It is a slim build with a good, comfortable shape that should be easy to handle for long periods. The corded design means consistent power to the precision calibrated motor.
There is also a nice choice of colours with the pink panache, purple or pale blue. The feel is enhanced by the light weight from the zinc alloy tech.
The look masks a powerful device. There are three speeds, with a high of 4,400spm, and this, plus the blade, allows for a good cut. The added bonus for canines here is the use of the vibration isolaters for minimising the vibration and noise.
This should help to ensure that dogs have a more enjoyable experience while getting groomed. Little details like this, and the easy maintenance, make all the difference.
8. Andis AGRV PowerGroom+:
Read Reviews
A choice of speed settings can be an important tool when dealing with top rated dog clippers for different types of dogs. Some dog owners are fine with basic one-speed solutions when it suits their own pet.
But, many groomers will prefer to have something a little more versatile to make sure they can handle the requirements of different clients. This 5-speed option allows groomers to match the speed to the coat with a simple touch of a button.
The use of variable speeds is also a good way to reduce the heat of the blade, if the dog gets a little uncomfortable. This is how Andis can get away with calling this a cool running model. It is possible to control the temperature more easily, but it can still get hot.
This versatility and ease of use continues with the swivel cord – for freedom of movement – interchangeable blades and the shape of the device.
9. Wahl Chromado Lithium Ion Clipper:
The product description for the Wahl Lithium Chromado model makes a point of highlighting the clever charging technology. This has smart tech to avoid over charging and overheating, with indicators to tell uses when it is ready to go.
The only downside to this is that the run time and charge time aren't as good as some of the cordless models around. It takes 60 minutes to charge and runs for 90 minutes.
Still, the device offers a great performance in those 90 minutes. The speed is higher than many top speeds at 5500 spm. This should means a quick, clean performance when dealing with a range of different coat types.
Also, the impact on the cut and the effect can be adjusted by swapping out the blades. It also comes with combs, oil, a cleaning brush and some attachment combs.
10. Oster Power Max:
Read Reviews
One of the selling points here is the blade. This is unusual with top rated dog clippers as they often have a fairly basic, all-purpose blade to begin with, and then let owners and groomer change it from them. Here the blade is a main attraction, not an afterthought.
It is strong and sharp for a great cut, which is also made possible with the 4,200 spm motor, but is also antimicrobial. This protective layer gives groomers a little more peace of mind about the quality and safety of the device when dealing with lots of different animals.
This corded device also has a contoured, lightweight body with a good grip to make it easier to handle. This, along with that speed, power and the quiet operation means that users should have no worries about using this long time with different clients.
11. Wahl SS Pro:
Read Reviews
This Wahl model is one of those clippers where designers want to cover all the right bases – without going too extreme with any one feature. This comes as a kit, with many of the features that users come to expect. This includes the #10 blade, a couple of attachment combs, the blade oil, cleaning brush and storage case.
The device itself claims to be fast, quiet, lightweight and cool running. The speed isn't all that intense compared to other models at 3.200, but this still adequate for many grooming needs. The power from the 10ft cord and the rotary motor definitely help.
Users also appreciate the feel of the device with the finger grips and curves. The aim here is to offer something reliable for long-term use, rather than something unusual that may not go the distance. This portable kit should provide the help users need for multiple grooming sessions.
12. Andis ProClip AGC2:
Check A mazonPrice
While this Andis model definitely classes as a one of the best top rated dog clippers, there is more to this device. This is in fact a top rated animal clipper because it has potential on many different animals. This largely comes from the fact that this is a more heavy duty model.
It has a tough shatter proof house and long 14ft cord that make it more resilient around livestock and horses. It also has two speeds and detachable blades so users can adjust the device to their needs. There is also a locking switch for long sessions.
Even though this is a powerful, heavy-duty option, there is still the promise of minimal noise and a cooler temperature. This is apparently down to the strong rotating motor. This design, when taken care of, should ensure that dogs are much happier when grooming.
Which of these options suits your needs the best?
These top rated dog clippers basically showcase the best options in different categories. We have the best all-round, no-nonsense clipper with the Andis model, the best option for large animals and thick coats with the Oster and the best option for small animals and show cuts with the Wahl.
Each product has its strengths in the most desirable areas, but there are also weaknesses. The Andis is user-friendly and accessible but basic. The Oster is fast and strong but heavy and imprecise.
The Wahl provides precision and a much quieter, cooler operation but is not very durable. The best option depends on your priorities when grooming, your confidence levels and most importantly – your breed of dog.
Dog Grooming Clipper FAQs For Cautious Dog Owners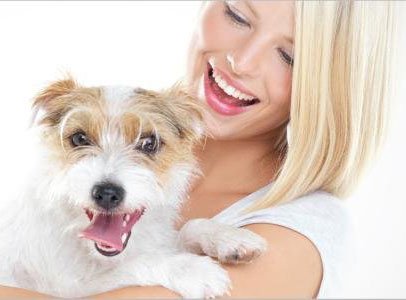 The dog clipper is the first, most important tool in the arsenal of the dog groomer – whether professional or not.
These pet clippers should provide an effective, efficient way to clip the hair of your pet, with plenty of helpful features in the mechanics and design.
There sometimes the assumption that all dog clippers are the same. But, there are differences in the functions that can make a difference. These dog grooming clipper FAQs should help you understand these devices a little better, and how to get the best experience.
1) Does it really matter if it is single speed or not?
There are different speed options on different devices. Some go as high as three or more settings, some are single speed, and many offer two speeds. The latter is common because it offers a choice between faster, efficient cuts on the coat, and slower, more deliberate cuts on other areas.
Different speeds basically give the user greater control. They are also important when handling the issue of heat – as you will see below. Also remember that models with additional grooming tools and attachments will add to the versatility.
2) How can I be sure that this model is safe enough for my dog?
This is an important question for all dog owners. We all want an effective device and a good price, but this worth disintegrates if the clippers are unsafe around the animal. There are three areas to be concerned with here.
The first is the noise produced by the motor. A quiet device is less scary. Then there is the vibration produced, which can also be distressing. Then there is the heat from the blades. Some blades heat up far too fast. This is a health risk to the dog's skin.
3) What can I do to prevent the device from overheating like this?
There are some different ways to prevent a device from overheating. Some switch down to a lower speed to reduce the pressure on the motor. Some turn the device off entirely for a little while – although this isn't convenient. Others use blade oil. The best approach is to pick a device that doesn't heat up in the first place.
4) Is corded or cordless best for my dog?
The answer to this question depends on the breed of dog, their activity levels and where you plan to groom them.
Large dogs that might wander around, and like to be groomed outside, stand little chance with a corded model.
Corded devices only reach so far. Cordless models are easier to manoeuvre, but they will need a good battery life on larger animals.
Also check to see if the device comes with an extra battery pack. The problem with cordless is the downtime while the device charges up. A second, removable battery eliminates this issue.
5) Most devices seem to come with the same type of blade. Is this the best blade, or just the standard choice?
You will see the term #10 ceramic blade in the specifications of a lot of dog hair clippers. This is a standard inclusion regardless of the price, brand or purpose of the clipper.
It seems that this is seen as the basic, safe option where users can't go too wrong. It is fine to begin with, but many groomers switch it out and upgrade. A device with a simple blade release makes this a lot easier.
7) Most devices also promise to be ergonomic these days. How ergonomic and beneficial can they really be?
Ergonomic is still something of a key word in sales pitches. Everyone wants to prove that their device is comfortable and ergonomic for the best experience. This is why many pet clippers now have a similar shape and body length, with a good grip. It is all about comfort and balance in the wrist, to reduce the risk of pain and fatigue during long grooming sessions.
Hopefully these dog grooming clipper FAQs offered a different way of looking at these devices. There are many features that we can gloss over in the specifications, that are actually very important. Ergonomic, cordless devices with two speeds are preferable in many cases. But, the best choice comes down to the personal needs of both yourself and the dog.