Is The Andis ProClip AGC 1-Speed Dog Clipper Kit Just A Basic Beginners Model? 
Andis have long been one of the top names for pet grooming tools, which is why many dog owners will turn to the Andis ProClip AGC 1-Speed Dog Clipper Kit.
This simple looking device uses a cool-running ventless system and a single, consistent speed for a reliable approach to coat clipping.
It is also compatible with different types of blades and has a break resistant housing. Is this enough to keep first-time users happy?
Check Current Amazon Price and Availability Here
How beneficial has this Andis ProClip Dog Grooming Kit been for users?
The first benefit with this device is the fact that the majority of users seem to find it pretty easy to use. There are the odd comments about the weight, which can lead to a little bit of fatigue from time to time, but most are happy to use the device for as long as needed to get the job done.
There are some nice features that help with this ease of use, such as the long 14' cord, detachable blades and locking switch. While human owners seem to be happy, there are also plenty of positive comments suggesting that the animals are having a better experience too.
There are three things that a dog grooming clipper cannot due. They can't get too hot, make too much noise or pose any risk of injury. There are many comments from users that state that this model ticks all three boxes.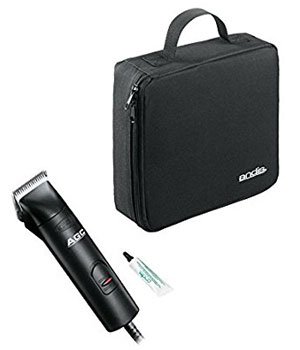 The blade guards mean that users have no concerns about heavy-duty grooming sessions, the blades stay pretty cool and there isn't much noise. Even if the blades were to heat up, there is some blade oil in the package to help.
Finally there is the important advantage that these Andis dog clippers simply do a great job on different issues.
The majority of users are opting for a simple trim, or to get rid of matted hair, and it does a great job here. Some have put these to work on thick coats and bad tangles and it has handled the job well.
There is also the fact that it can be used on more delicate areas and show cuts, with some talking about the effect between the toes. Most are happy with the results and willing to keep at it at home, rather than head to a groomer.
Are there any clear downsides to this Andis ProClip AGC 1-Speed Dog Clipper Kit that limit its appeal to hopeful pet owners?
This model is not without its flaws, and the first to consider is the fact that it has just the one speed setting. The response here are a little mixed, and it seems that the effect depends on your perspective.
There are complaints from experienced users that wanted a little more power or control in their cuts for a better grooming experience. Some professional groomers felt that it wasn't anywhere near powerful or versatile enough.
Then there are the first timers that liked the speed and felt comfortable using it. This has led to the idea that this model is designed for newcomers only.
Many buyers felt a little cheated as some sales pages have spoken of a 7 part set. They had gone into the purchase thinking that they were getting the unit, charger, case and four other pieces, such as brushes, combs and other attachments for a versatile session.
This was not the case. There is a travel case and some blade oil, but no extra combs or blades. As a result, some felt they overspent.
Summary: what does this all mean for a final verdict on this Andis ProClip AGC?
The idea of versatility is interesting with this device. While it is clear that there is the potential for a great cut on a large number of coat types, the device doesn't have the accessories and settings to take the grooming experience up a notch. It is no surprise that many feel that this is a beginners model.
The Andis dog clipper feels like something that new users will start with to get a feel for clippers and the possibilities of grooming, before upgrading to a bigger, better package – preferably one with more combs and blades. It is great starting point, especially from the dog's point of view, but little more.
Find more reviews about the Andis ProClip AGC 1-Speed Pet Clipper on Amazon here.