This post may contain Amazon® product affiliate links. We may receive a commision if you make a purchase after clicking on one of these links but at no cost to you. Please visit Our Privacy & Disclaimer Page for more information. Thank you.
Does The Oster Power Max 2-Speed Dog Clippers Offer The Performance Buyers Expect?
The Oster Power Max 2-Speed Dog Clippers is an appealing looking clipper because of the slim shape, the simple design and the brand name " Oster" tend to come out in top in many brand reviews.
There is an ergonomic shape, simple power button and a body that is apparently 20% lighter than the Oster A5.
The device has a lot going for it in terms of the specification and the promises of a good cut, but does it deliver?
Click Here to See Current Price on Amazon
What benefits have buyers highlighted when talking about this Oster Power 2-Speed Clipper online?
One of the key selling points with this dog grooming clipper is the blade. Not only is there a detachable blade system so users can change options for different styles, the one that is included is a CryogenX antimicrobial blade. This means that this should be a more hygienic option, which is great for those grooming more than one animal.
The last thing that professionals want is to pass infections from one animal to another. At the same time, these blades offer a good cut thanks to the material and the power behind them.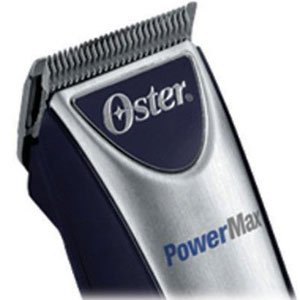 There are 4200 strokes per minute on the highest of the 2 speed settings. This means that users can slow things down on the difficult areas and also perform a quick trim where needed.
This lower speed is also helpful to many newcomers to look at this kit as a starting point for their own pets.
Additional benefits here are the accessories and general ease of use. It comes with blade oil, a cleaning brush, and drive tips as well as a carry case for transportation. There is also praise for the quality of the instruction manual.
Are there any issues with this Oster PowerMax 2-Speed Pet Clippers that new buyers need to know about?
Despite all of these clear benefits to this system, there are still some mixed reviews with a number of 4 and 3 star reviews pointing out issues. The comments here on the noise produced and the heat of the blades seems to vary greatly from one user to the next.
One will have no problem with either, while others say it heats up too quickly and disturbs animals. This could all come down to the expectations of the user based on experiences with other models, the circumstances and length of time on the cut and the breed of dog.
Even then, some that do experience heat still leave positive reviews overall because it doesn't take long to let them cool down and start again.
Summary: what does this mean for a final recommendation on this Oster Power Max Antimicrobial System?
These pet clippers are not going to please all of the people all of the time. There is the risk that some dogs won't like the feeling, just as there is the risk that owners won't like the blade.
However, those yet to experience issues are keen to recommend this Oster dog clippers based on the design and performance. There is no doubt that this is a reliable model for any dog owner looking to clip their dog for the first time.
Find more reviews about the Oster Power Max 2-Speed Clippers on Amazon here.