This post may contain Amazon® product affiliate links. We may receive a commision if you make a purchase after clicking on one of these links but at no cost to you. Please visit Our Privacy & Disclaimer Page for more information. Thank you.
Does The Wahl SS Pro Dog Clipper Kit Offer The Full, Professional Package Expected?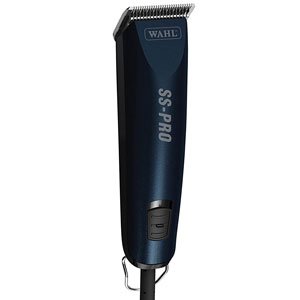 A strong dog clipper is a must for all dog owners and groomers with unruly coats to deal with, and the Wahl SS Pro Dog Clipper Kit aims to be one of the best.
There are some interesting sales claims with this product that suggest that it is ideal for all dog types and all users.
It promises to offer "all over grooming" with a professional performance and a great experience for the animal. Is this the case, or are there some important drawbacks to keep in mind?
Check Current Amazon Price and Availability Here
What benefits have buyers seen with this Wahl SS Pro Pet Clipper Kit?
The first thing to note with this product is that there are many people praising this model for the lack of noise. It is sold as a quiet model with minimal vibration and buyers report that this is true.
Many animals have few issues here, perhaps because this is a 3,200spm model with a single speed rather than anything more powerful or versatile.
This motor has also led to some interesting mixed reviews when it comes to the quality of the cut and that professional feel. There are many people using this Wahl pet grooming clipper with relative ease and awarding it great reviews for the quality of the cut.
The specification talks about the nice feel to the body of the pet clipper and the ease of use with the 10ft cord, and there seems to be no issue here.
It also seems to be pretty reliable on a range of different coat types. The problem, however, comes in the difficulty in handling matted fur or any other problem area.
What other issues have users highlighted with this Wahl SS Professional Dog Grooming Clipper?
In addition to the limitation with matted fur, there are some that have pointed out that this system isn't as versatile as some many assume. There are two blade guards included in the pack, but some say they are far too long to be of use on their breed, and far too similar to each other.
This makes the guards fairly useless, and this is not good when there are issues with the heat generated by the blades. In addition to this, there are some users that feel that there are not enough attachments and extras for the higher price. This is sold as a full kit, but aside from these questionable guards, there is just a storage case, cleaning brush and a little blade oil.
Summary: what does this all mean for a final verdict on the Wahl Professional Pet Clipper Kit?
It is easy to see why some feel that this product is overpriced. It doesn't have the range of features or the quality in the cut that some are after. The issue here is also largely down to the low, single speed of the motor.
It it capable on many jobs, but it has its limitations. Still, there are many people that are pleased with the basic package of this Wahl dog clipper and the general cuts. It is still a good starting point for first timers with a pretty reliable performance and nice design.
Find more reviews about the Wahl SS Pro Dog Clipper Kit on Amazon here.