How To Choose Between Top Rated Dog Grooming Tables
Dog grooming tables are an important tool for anyone that wants a more professional approach to clipping and grooming pets. Dog owners can buy one for the home that they can set up whenever it is time for their pet's next haircut.
Dog breeders can take portable versions to dog shows as the perfect tool for all those finishing touches. Professional groomers can set up a more substantial device in their premise to handle a stream of unkempt pooches. The best choice comes down to finding the right table for the situation.
Check Out The Top 10 Best Dog Grooming Tables
What features do consumers need to consider when looking at top rated dog grooming tables.
The first thing to consider is the means of adjusting the table. Dog grooming tables tend to fit into three categories. There are the basic non-adjustable tables for the home with a simple frame and surface. Then there are the manually adaptable tables with height adjustable legs, for use with multiple dogs.
Finally there are the more heavy-duty tables with electric lifts for regular use and larger animals. This guide will look at some options from all three. Some of the models below are also foldable or have other quirks to the height or shape.
From there, it is important to consider the size and build of the table, with regard to the length, weight allowance and quality of the surface. Your dog needs enough room to move on a secure, non-slip surface. With the basics out the ways, you can then look at the additional features, such as the use of a grooming arm or storage tray.
Is there are secure loop on the arm? Is the arm height adjustable? Finally, you can consider elements of the design, such as the colour of the surface. Looks are as important, but many dog owners wont want anything too ugly.
1. Go Pet Club Electric Grooming Table: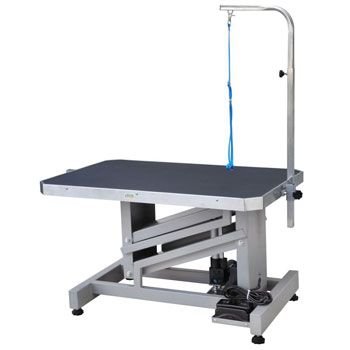 These machines are bigger, bulkier models with strong mechanism and powered height adjustments than non-adjustable dog grooming tables . The idea is that dogs can climb aboard at a lower height and then be lifted to the right level.
This Go Pet electric motor model uses a stable Z lift between heights of 21.5 and 41.3 inches. It isn't the widest range, but should be enough for many professional applications.
The surface of the table measures 36 by 23.6 inches and, unsurprisingly, is black. It also has a pebbled non-slip plastic/rubber composite on the surface for security.
Finally, there is the adjustable grooming arm and leash that clamps into the table. This is quite simplistic in the way of features, but offers that smooth lift for those with large dogs or back problems.
2. Master Equipment Grooming Table:
When we compare this Master Equipment grooming table to the non-adjustable Flying Pig options, it can seem a little weak and simplistic. The specification does talk about a strong, stable frame with the goal post style legs in chrome plated steel. However, there is a weight allowance of just 175lbs. This means that there are limitations on the breeds of dog that can use it.
Still, there are plenty of other benefits seen with this product. First of all, it is available in heights of 30, 36 and 48 inches. This means that it is possible to find a slightly sturdier model for larger animals if needed, or to drop the height for smaller breeds.
There is also a nice non slip PVC coating on the table and a free grooming arm and 18'' loop. Finally, this is another model that folds down for easy transportation. This is where the lighter weight and a move away from "heavy duty" frame can actually help users.
3. Flying Pig Heavy Duty Grooming Table:
Flying Pig are a popular brand when it comes to well-made, user-friendly grooming tools. The look and build of this table shows why. There is a nice design to this table, with the metallic shine on the stainless steel legs and the bone shaped table top.
That surface measures approximately 38 by 22 inches and has a textured surface for a good grip. An interesting detail with this table top is that it comes in alternative colours of orange and sky blue. This might favour owners of black-coated dogs that don't really want their pup blending into the background.
Another of the advantages to this Flying Pig Heavy Duty Stainless Steel Pet Grooming Table over some of the other, more basic tables is the storage basket. This is great for storing tools and products. The addition of the adjustable grooming arm adds to the more comprehensive nature of the table. It shows that at-home models can be convenient, well thought-out tools too.
4. BestPet Adjustable Dog Grooming Table:
This is a good model to start off with when looking at top rated pet grooming tables because of a potential misconception. The use of the word adjustable in the name suggests that there is the opportunity to alter the height of the legs.
Instead, it is the grooming arm that is adjustable. Still, there is a good frame here with the added bonus of a folding mechanism. This makes it portable for those going from home to home.
The company are also pretty proud of the surface, which is said to be both skid resistant and static free. This allows for better safety and ease of cleaning. This isn't the largest table in this list, as it is only 32 inches long and 30 inches high, but it isn't the smallest either. Owners of smaller breeds should find that this is a helpful tool for use at home.
5. Master Equipment Adjustable Height Grooming Table:
Next we have a pet grooming tables with a manual adjustable height. This is a good step up from the models above if users have multiple dogs, or work professionally. This Master Equipment table has strong electroplated legs that adjust in height from 24 inches to 34 inches.
Users can lock the legs into position with pins and clamps to be sure it is secure. This can take a little time because of the slightly fiddly nature of the clamps, but it is worthwhile when dealing with different animals.
The table top has another of those black, non-slip surfaces that are so common with these grooming tables. Some might prefer to see other colour choices, but it is clear that this is rarity. When users are finished they can fold up the table for storage of for transportation to another job.
Related content:
6. Yaheetech Professional Foldable Pet Grooming Table:
Again, this Yaheetech grooming table doesn't offer the largest surface areas, with a space of just 32 by 18 inches. However, the focus here is more about the weight of the dog than the size. This is one of the more heavy duty table with the potential to hold dogs as heavy as 220lbs.
This is appealing to those with small, heavy set dogs that don't want a large table, but still need that stability. These dimension and weight allowances show that it really is important to check the specifications carefully when looking at the best dog grooming tables.
Once again there is the non-slip, wipe clean surface to help keep pets secure and ensure that it stays cleans and presentable. There is also a clamp on grooming arm with a leash loop and a storage table beneath.
Users can then remove the tray and fold the table up when not in use. This is therefore another professional dog grooming table that tries to offer the complete package of features to dog owners.
7. Pingkay Fold Pet Grooming Table: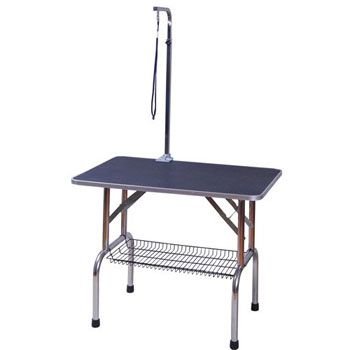 As we go through these different models of non-adjustable pet grooming table, we see that there are many different shapes and sizes. Some are strong and small in length. Others are short but have ample room to move on top. The latter is a good description of this Pingkay model.
The low height of just 26.8 inches means it is ideal for smaller animals to jump onto. It is even sold as model for both dogs and cats. This adds a little more worth for households with a menagerie of small animals to care for.
This Pingkay grooming table may be short, but it is also 48 inches long and has a weight capacity of 300lbs. This is exceptionally wide and strong for these smaller dogs, and offers a little more confidence in the security of the product. The table also comes with the adjustable grooming arm, pebbled black surface and a tray underneath.
8. ComfortGroom Ultra Low Z Lift Electric Grooming Table:
After looking at all the attractive, feature-ridden tables above, this ComfortGroom Z-lift Electric Grooming Table  seems quite industrial. The star of the show here should be that mechanism, with the wide reaching height adjustment and foot pedal. It should be easy to lift dogs on this table from 13 inches to up to 42 inches high. This means great potential for large and toy breeds.
There is also strength in this frame with the 400lb weight capacity. However, many users will actually be more interested in the 42'' long removable top. Users can lock this into place when working on dogs, then remove it for cleaning.
There is also the interesting addition of a foam layer beneath the textured surface. This is meant to provide extra comfort and is something that other brands don't seem to consider.
9. Flying Pig Large Grooming Table:
On first impressions, this Flying Pig non-adjustable table looks very similar to the model above. It shares many of the same features with the strong frame, textured top and the inclusion of the storage tray and grooming arm. The first difference is the size and shape of the table top.
There is a more ordinary, large rectangle shape to this heavy duty pet grooming table, which measures in at 44 by 24 inches. This means more room for larger dogs and a more secure shape. Some can find the bone cut-outs a little awkward.
Security is important here as this is sold as a "super durable heavy duty" model. The weight allowance is 330lbs, so it should have no problem with the larger breeds.
The stability of the table is even more impressive when we consider that this has a folding frame. It might be a little heavy and cumbersome to carry round, but is a great tool for many groomers.
10. Master Equipment Round Grooming Table:
The last of these non-adjustable dog grooming tables takes a different approach to the size and shape again. Here users get a small round table with a grooming arm, which they can then set on any kitchen table or work surface in a groomers salon.
The round shape looks nice, especially in the blue or purple, and allows users to spin the dog around for better access to difficult areas.
The 18'' diameter surface and style shows that this really is for toy breed only. The idea is to provide that secure, helpful space in a home when clipping nails, trimming fur and giving these little show dogs a good check.
The surface is skid resistant and easy to clean. There is something a little fun, perhaps even gimmicky about this table. There is niche appeal to the right owner, but perhaps wouldn't replace a small table for regular jobs.
Finding the right dog grooming table for your home.
As you can see, there are a lot of similarities between these top rated dog grooming tables. There is a clear formula that most brands want to stick to in order to ensure that owners are happy and dogs are safe. This means a strong frame, a large enough work area, a non-slip surface and usually a grooming arm and loop.
All the best models need to cover these basics before they can try and stand out with other features. From there, it is all about the details in the dimensions, the colour options, the quality of the grooming arm and any extra tools.
The first step to choosing the best of these models for your own personal needs is obviously to pick between the height adjustable and non-adjustable models.
From there, take your time to look at the size and weight allowances to be sure it is a good fit for your dog. Then check the details and reviews to learn more about the ease of use, portability and stability of the table. Eventually you will find a dog grooming table that meets all your requirements.