A Review Of The Wahl ARCO SE Cordless Dog Clipper
Anybody that has a hyperactive pup or a pedigree pooch with unruly fur will know how difficult it can be to groom a pet dog. In an ideal world the task would be quick and stress-free for both you and the dog but quite often the nature of the clippers and the quality mean that it can be time-consuming, inefficient and uncomfortable for the dog.
The Wahl ARCO SE Cordless Dog Clipper is designed to combat these issues and make the chore much quicker, more convenient and stress free for your pet but does it succeed?
What can buyers expect if they purchase this Wahl dog clipper?
There are a number of features that make this Wahl cordless rechargeable clipper an attractive device and many potential advantages via the functions and the contents included.
The lack of a cord is of course the number one selling point but users will also benefit from the fact that it is rechargeable – with a battery life of sixty minutes – runs at an impressive speed of 5,500 strokes per minute and is lightweight at just 7.8 ounces. Inside the box customers will also find a set of different blades, a cleaning brush, blade guard and oil.
Wahl ARCO SE Cordless Clipper Reviews
What are the positive features of this cordless clipper and how has it been received by users?
This Wahl ARCO dog grooming clipper receives an impressive customer reviews score on Amazon. The positive feature that receives the most praise is the speed of the process. Because of the fact that the blade can be adjusted without the need for changing it and the cordless nature of the product, this pet clipper appears to cut hair in a faster and more convenient way than other devices.
Additionally, many consumers of this Wahl 8786-451A ARCO SE Cordless Rechargeable Clipper have praised the way that it can cut the hair in such a quiet way that it does not disturb the dog, however not all users feel this way.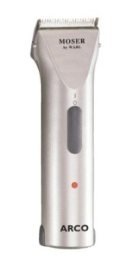 What negative features and flaws should buyers be aware of?
The most common, rather interestingly, is the noise. While there are many users claiming that the sound is low enough for their nervous pet there have also been comments of dogs being afraid to have the product near their heads and of the blades becoming louder with age.
This is a minority of users, and it could come down to personal preferences and individual faults, but it is worth noting. Another potential flaw is the general longevity of the device and its parts and the quality of the construction but again this has received mixed reviews.
Is the Wahl ARCO SE Cordless Dog Clipper recommended for purchase?
In short, despite the minor flaws it is clear that this is a dog clipper that is highly rated by those that have used it and it carries a lot more positive features than negative.
If you can overlook the noise and longevity issues and are looking for a product that leaves you with a convenient method, quick result and a chilled out pet then this is sure to be the device for you.
Read more customer reviews about this Wahl Professional Animal Powerful Motor ARCO Cordless Clipper Kit on Amazon here.