Is The Brushless Wahl 9791 KM10 Professional Dog Clipper As Efficient And Beneficial As Expected?
The Wahl 9791 KM10 Professional Dog Clipper may not look like much as first but its creators are relying heavily on what lies beneath the blue casing. This appliance uses high and low speed settings to alternate between thick coats on the body and delicate areas, has "constant speed control" to increase the efficiency depending on the matts and thickness and even comes with blade oil and a cleaning brush.
Control and efficiency seem to be the most important elements to this Wahl device but do they come across when dealing with the tough jobs provided by real pets?
What benefits have buyers appreciated when testing out this Wahl 9791 KM10 Pet Clipper on their own animals?
The brushless motor is a feature that may be glossed over by many consumers upon reading the specification because it does not sounds as important as the speed settings or the controls; however, those that are used to using products like these are quick to point out the advantage of this brushless design over those used in other brands.
A common complaint about pet clippers is that the heat and noise generated with use make pets feel too uncomfortable and therefore limit the appeal of using them – this is not the case with this particular Wahl model. Instead, pets seem to barely notice these clippers at all and this is even reported in older, nervous pets that know what to expect.
What enhances the performance of this Wahl 9791 KM10 Professional 2 Speed Corded Clipper in the eyes of its users is that they are also powerful and capable on a range of coats, having proved themselves on dense coats like those of poodles and even been used on horses, long haired cats and the odd experimental human.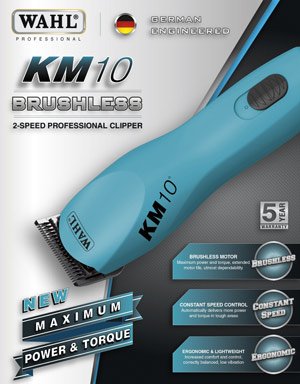 Additionally, users like that they feel tough and light at the same time, that the nice, long 14ft cord gives them the best of both worlds – plenty of access for large, fidgety dogs and those horses and no concerns about charging it up.
It has an ergonomic design which also adds to their own comfort levels. It is said to provide the utmost "dependability, balance and control, vibration and comfort" to protect against wrist fatigue and buyers seem to agree with this.
The Wahl 9791 KM10 Professional Dog Clipper seems to score highly on design and performance so are there any disadvantages being noted in reviews?
Firstly, there area few comments about faulty merchandise that start bringing down the overall rating of this product but what is interesting about those particular reviews is that the buyer is still keen to point out the quality offered for the brief moment it was working.
Another key flaw for many is that it doesn't come with many blades of any combs and is therefore not ideal as a starter kit. On a similar note, there is also a comment about the lack of guidance on length, reinforcing the idea that this is for experienced users who already know what they are doing.
Finally, this item is more expensive than some other brands, although this is not really seen as a massive problem because of the quality provided. Pet owners seem to appreciate what this product is providing for that extra cash and would rather pay for a quiet, effective model than save money on something that takes twice as long to do the job.
Summary: are these small flaws enough to stop this powerful Brushless Wahl 9791 KM10 from being recommended?
There is a clear sense that this is a model that understands pet owners and aims to provide them with the best, most reliable option rather than something simple and stylish; however, the drawbacks it has in the lack of reading material and accessories and the high price mean that it will not be ideal for everybody.
New users may be better off with a simpler, better-equipped kit but this clipper should not be a problem for those that are more used to pet grooming as the appliance more than makes up for these omissions with its great, ergonomic design, the clever use of the brushless motor and its power.
Essentially, the Wahl dog clipper is a great upgrade for those already experienced in pet grooming who want something a little more pet-friendly and efficient; it may not be a pet grooming kit but it is still a brilliant clipper.
You can check out more customer reviews about the Wahl 9791 KM10 Professional Dog Clipper at Amazon here.