Are The Trim-Pet Dog Nail Clippers As Reliable And Effective As Dog Owners Hope?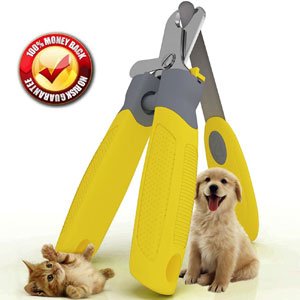 The bright yellow Trim-Pet Dog Nail Clippers are the sort of device that pets will see coming, but there is the hope here that they won't mind the grooming process with this option. The specification for this clipper is full of short statements and phrases designed to draw users in.
These include "healthy pet grooming", "designed by veterinarians" and, the old favourite, "100% satisfaction guaranteed. When Trim Pet throw in the additional nail file, it is hard for dog owners to move on. There is a lot of potential here, but does this simple nail cutter perform as hoped?
See best current price on Amazon here
How beneficial have these Trim-Pet Nail Clippers been for pet owners?
Understandably, the main concerns with these types of clippers is always the safety of the dog and the ability to create a quick clean cut. This is an essential for an efficient, stress-free process. The designers of this device have considered this with the promise of that clean cut and the use of the strong spring for a quick motion.
Essentially, there is no time for the animals to panic about the process. There is also a promise here that this device is designed for dogs and cats of all sizes. This sort of sweeping statement never usually ends well for as it is often to weak for thick claws or two large for small ones. However, there is a surprisingly broad appeal here. The cuts on thick claws are clean and there is confidence when working on smaller ones.
Then there is the fact that this device is also designed with the human user in mind. This is a comfortable device that should be easy enough to hold for long periods with the ergonomic handles.
For the most part, buyers are happy to continue using these clippers on different animals and there are few comments about discomfort.
Are there any clear issues with these Trim-Pet Nail Clippers that new buyers need to be aware of?
The problem with this clipper lies in the quality of the blade and the spring. There is plenty of talk in the specification about the strength and reliability of the spring to eliminate pinching and create that clean cut.
The cut it fine, but the spring feels weak to some users. Then there are those that criticise the blade. It is meant to be "extremely sharp" due to the treatment of the metal, but some find that it dulls a little too easily. This all means that buyers are a little concerned about the long term reliability of this device.
Summary: how does this negativity affect a final verdict on these Trim-Pet Ergonomic Dog Nail Clippers?
There are issues here with the construction of this clipper, and a clear sense that this would be a much better option with a sharper blade and new spring. However, users don't want to criticise this device too much because it is still able to provide that clean, desirable cut that most are looking for.
It also lives up to promise of versatility of dog breeds and comfort. Therefore, these Trim-Pet clippers are still recommendable, despite the flaws.
You can check out more customer reviews about the Trim-Pet Dog Nail Clippers on Amazon here.