Here is our list of the top 3 best dog clippers available
Buying a pair of dog clippers can seem like a great investment for any pet owner that is fed up of the cost of grooming and wants to have a go themselves. The problem is that there are so many products out there claiming to be the fastest, strongest, quietest and most effective clipper available.
The best options are the ones that are the most well-rounded with multiple benefits and scores of positive reviews. The trouble is that these promising models can get buried beneath the "cheap and cheerful" options.
See Current Price on Andis AGC Dog Clipper Here
The following guide will take a look at three of the top rated dog clippers on the marker from three of the best, and most respected brands.
By comparing the three, you should be able to get a better idea of the similarities between the appliances, some of the key differences and some other important considerations to think about when buying a pair of clippers.
Andis AGC Super 2-Speed Dog Clipper
The first pet grooming clipper to look at here is one that is seen as a simple, all-round model from one of the leading brands. In many ways, this is quite a simple model because of its basic shape, the 2 speed motor and the 14'' cord. On the one hand, this make the product accessible; on the other, there is a lack of accessories.
The reason that it is appealing to dog owners is that it claims to be "perfect for all coats" and comes with a number of additional sales promises with both owner and pet in mind. It is designed to be cool, quiet, easy to use and shatter-proof.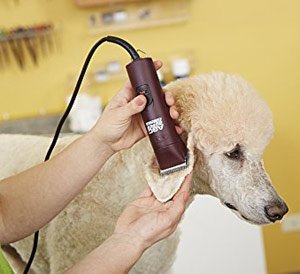 Another interesting element of this Andis AGC Super 2-Speed Dog Clipper is the idea that it is "virtually maintenance-free". The drive cap is removable for easy cleaning and there are now vents to clog up with hair.
A large majority of buyers agree with most of these notions, and there are many positive reports about the ease of handling and the results of the blade.
There are owners creating decent cuts on toy dogs and others with minimal experience getting to grips with the thick coats of large working dogs.
The learning curve here is clearly pretty small and users quickly get over the fact that the product is heavier than expected.
The biggest problem seems to be the fact that the lack of ventilation has a negative effect on the heat produced. This is not the cool-running model advertised and does require plenty of blade oil.
Oster A5 Turbo 2-Speed Dog Clipper

If the Andis model was appealing because of its all-round performance on different dog coats, the Oster A5 Turbo may seem a little alarming on first impressions. It is currently ranked at the top model in its class on Amazon, but that class is Horse Care Clipper.
The truth is that this model was designed for farming and livestock care, but the strength, quality and other benefits mean that there are plenty of happy dog owners using this too. Power is clearly a major selling point to this rugged-looking device.
>> Click to See Current Price here<<
In addition to the universal rotary motor, this Oster A5 Turbo 2-Speed Dog Clipper provides over 4000 strokes per minute. This all suggest that the clippers are capable of a quick, effective cut and buyers say that it makes short work of thick coats like poodles, huskies and German Shepherds.
On the other side of the coin, there are complaints from toy dog owners who, unsurprisingly, found that these tough livestock clippers didn't have the precision needed.
What makes this system even more interesting to pet owners is the fact that it also seems to have a gentler side. Like the Andis, it promises cool running for the safety of pets and also has an antimicrobial coating on the blade.
There are mixed reviews about the noise and heat produced, but many dogs don't seem to be affected. Some see a little heat as the compromise for the quick, powerful action. This is not a great choice for nervous show dogs, but ideal for quick jobs on larger working animals.
Wahl ARCO Cordless Dog Clipper Kit

In many ways, this cordless Wahl model is the exact opposite of the Oster model above. Where that one was tough, rugged and imprecise for more basic needs, this one is designed for a clean, attractive cut on smaller animals. This means that it is pretty easy to handle to help with that precise finish.
This is a 5-in-1 kit, which means that it is able to do more than the basic cuts, and this means that it is the ideal choice for working around the face and feet of smaller dogs and getting a neater finish.
Click Here to See Current Price
This use on smaller, more nervous dogs means that promise of cool running blades and an "exceptionally" quiet operation are even more important.
This time it seems that the Wahl Professional Animal ARCO Cordless Clipper is able to live up to both claims very well and buyers are happy to use it on their pets.
This different approach meant that this dog grooming clipper has an entirely different look that will appeal to at-home groomers. It is cordless with a slim, good-looking body and weighs just 7.9oz. The handling of this model is pretty good, and even first-timer users are clipping difficult areas with ease.
The problem with this weight and design, however, is that the casing is nowhere near as tough as that of the other models. Many buyers have experienced breakages as the thin plastic housing cracks under the pressure of the motor. This means that the product may not have a long life.
Which of these options suits your needs the best?
These three top rated dog clippers basically showcase the best options in three different categories. We have the best all-round, no-nonsense clipper with the Andis model, the best option for large animals and thick coats with the Oster and the best option for small animals and show cuts with the Wahl.
Each product has its strengths in the most desirable areas, but there are also weaknesses. The Andis is user-friendly and accessible but basic. The Oster is fast and strong but heavy and imprecise.
The Wahl provides precision and a much quieter, cooler operation but is not very durable. The best option depends on your priorities when grooming, your confidence levels and most importantly – your breed of dog.