Is The Pet Gear Octagon Dog Pen As Good In Practice As It Is In Theory?
The Pet Gear Octagon Pet Pen is an odd shaped pen that is designed to provide a space for cats and dogs that is comfortable, enjoyable and all theirs, whether they are in their own home, someone else's or in the car.
It has a door that can be held open by velcro or completely sealed, the top is ventilated for extra comfort and it comes in a range of colours like sage and lavender – although that must be more for the owners' benefit than the pets'. The pen is an interesting idea in theory but what is it like in practice?
Check Price and Availability Here
What benefits have buyers, and their dogs, found when testing and reviewing this Pet Gear Soft Sided Octagon Pet Pen?
This product has been greatly enjoyed by some small toy dogs that use it as a little bedroom/play room, which also gives owners the added benefit of keeping all their toys out the way, and it has also been bought for some cats, who find it to be a nice private space/bathroom.
Buyers say that it is a good alternative to carry cages and this is enhanced by the fact that it folds up for transportation and shrinks down nicely – the sales promise is that it will be "completely flat" and it is not far off. Best of all, the comfort and feel of the pen gives pets extra security when they are being looked after in relatives' or strangers' homes.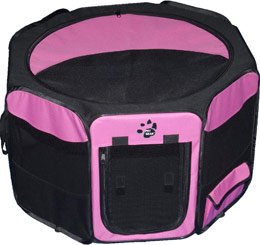 Another important benefit to this pen is the good construction and use of materials, including the water resistant floor in case of accidents.
It seems to be quite tough and numerous buyers have said that the material has held up to the scratches and forceful play of dogs that want to test the boundaries; however, this idea of escapologist canines leads on to the potential flaws.
Why is this Pet Gear Octagon Pen not recommendable for adventurous pets and what other flaws does it have?
With an Amazon score of 4 out of 5 it sounds like there should be more flaws to mention than there are. For the most part buyers love the concept of the pen and many different features but there are two clear limitations that have led to the lower reviews – the size of the pen and its ability to tip it over.
Smart dogs have figured out how to escape, puppies can outgrow it very quickly and big dogs do not fit inside with the lid on – with the lid off it is even easier for them to get out. Other than the size issue and the small capacity of the storage pockets, however, it seems that this is a well made product that impresses buyers a lot.
Summary: how does this key issue affect the final recommendation for the Pet Gear Octagon Travel Pet Pen?
It seems that the pen has some good elements, such as offering a familiar space in unfamiliar places, but is only recommendable for small breeds, puppies with a calm nature and cats.
In the right household with the right pet, this Pet Gear Octagon Pet Pen with Removable Top for Cats and Dogs can prove to be a great portable play pen and sleeping area that has the added benefit of durability; in the wrong household with the wrong pet it will be nothing more than another toy to play with that could well be fun for dogs but infuriating for owners.
Click here to see what other customers are saying about the Pet Gear Octagon Pet Pen at Amazon.com…