Give Your Pet A Reason To Smile With The Patio Pacific Endura Flap Wall Mount Pet Door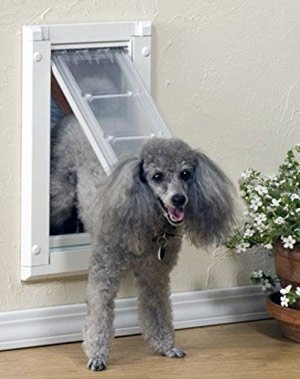 Introduction – Patio Pacific Endura Flap Wall Mount Pet Door is a small artificial opening that allows pets to enter or leave the house as they please, without owners having to let them out each and every time.
They are usually fitted on the side of a wall or window, though it's still possible to install your pet door on the dog's kennel.
This is an award-winning brand that's resistant to harsh environmental conditions and heavy shoving by the animal as it tries to get in, thanks in part to the chunky aluminum frame that can't be broken down easily. Buyers would get a 10yr warranty cover from the manufacturers, and another 15yrs for the flaps.
Patio Pacific Endura Flap Pet Door Pros and Cons
The Good
1. It offers some degree of protection against rain, harsh wind and big-bodied intruders that may otherwise cause havoc to your home; this is especially true for those who live near game reserves where wild animals such as elk and bear roam freely. If you leave the standard house door open they can easily make their way in, but with the Flap Wall entrance such creatures can be kept at bay.
2. It's available in two versions that the dog owner can choose from, which include the single all-weather and dual flap editions. While the first mentioned option insulates remarkably well, doubles can be a great solution for those who live in extremely harsh climates.
3. Features an excellent design that's both flexible and safe, Patio Pacific Endura is safely insulated, durable and bears an environmentally-friendly flap with variable magnet strength that makes the training process simple. Upon coaching your dog will learn the purpose of this entrance within minutes.
4. It seals well and doesn't blow open even in extremely windy conditions, there's no way that cold air would infiltrate into your house through this opening.
5. Since the pets can come in and go as they choose, the entrance helps to curtail unwarranted animal behavior such as loud vocalization, uncontrolled excretions and scratching on the walls/doors, such tendencies occur when an animal feels bored by being put indoors for too long.
The Bad
a) The instructions manual still leaves a lot to be desired, it doesn't give a step-by-step guideline on how to put up the Pet Door from scratch. In most cases you are only left guessing what goes where.
b) The frames are clamped together with a set of threaded rods, requiring much attention on the cut alignments and wall thickness while installing them. If you forget to cut the rods appropriately to a good length, the nuts would not be tightened well thus making the construction weak.
Conclusion
If you're interested in giving your pet more freedom to roam then this is the right product for you, studies show that animals which aren't confined to a single enclosure are happier and mentally stable than those which stay locked in most of the time.
Patio Pacific door also comes with a silicone sealant adhesive for securing the tunnel seams, and vinyl solar protectant cover for the main flaps. As for insulation, each entrance is double-paned with narrow cores for increased heat retention. Apart from the convenience that this mini-door provides, it also adds aesthetic value to your home.
You can check out more customer reviews about the Patio Pacific Endura Flap Pet Door at Amazon here.