The Oster A6 Dog Clipper: Can This User-Friendly Appliance Also Appeal To Our Canine Companions?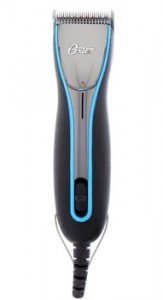 Pet grooming can often be a thankless chore, especially if your pets easily frightened by the heat and noise and it takes hours to achieve an adequate result, but the Oster A6 dog clipper claims to be able to make the task easier for all concerned.
This 7.5 volt product aims to be lighter and faster than other clippers on the market, thanks to its one-handed design and time saving design features, and it is also much quieter because of the vibration isolators that absorb the noise.
In addition to this, this model boasts a 12ft power cord, 3 speed settings, a faceplate that keeps out the hair and it can take all the blades from the previous Oster A5. The Oster A6 heavy duty pet clipper certainly sounds like a capable, user-friendly appliance but is it up to the job?
Some Noted Features of the Oster A6 Dog Clipper
One hand operation switch with quick and easy selection of 3 speeds
Vibration isolators absorbs noise and vibration
Can take all Oster A5 detachable blades
7.5 volts / 15 watts
12 foot power cord specifically designed to minimize outlet space
Oster A6 Dimensions: 6.9 x 1.9 x 1.8 inches
Weight: 15.4 ounces
What Customers Said about the Product – Positive Comments
The design and features of this product have lead to many five star reviews praising its performance over previous Oster models and rival brands. A large number of reviews have mentioned that the clippers are comfortable and easy to use and, while this is largely due to the one hand operation and the light weight of the durable zinc alloy.
The interchangeable blades and extra-long cord are also highlighted as advantages. It is not just owners that can benefit from the Oster A6's clever design; the lower, quieter pitch of the mechanism is much less irritating to the sensitive ears of pets, the blades are cooler on their skin and they can cut the fur of pretty much any pet efficiently and quickly.
A Couple of Complaints
Criticism for this Oster dog clipper is limited because many low rated reviews target individual manufacturing faults rather than flaws in the design or performance; however, there is some discussion over the price and purpose of these clippers.
Some feel that although the Oster A6 is a nice, simplistic product for beginners, it is perhaps not an ideal purchase for people looking for a more professional appliance or cut.
Additionally, there have also been comments about the ease of cleaning. The soft rubber grip may be a great addition for user comfort but it attracts hair easily and takes up the time saved by the faceplate.
Concluding Thoughts
The cost of this Oster pet clipper may seem like a lot to spend on a pair of clippers at first but once you try out this product you will find that they are easily worth a little extra cash because they provide a great experience for owners and pets alike.
The A6 is quiet and cool enough not to bother your cat or dog too much and you are sure to appreciate the easy handling and user-friendly design features. If you want a convenient, straightforward set of clippers for the home, and you are not looking for a fully professional feel, the Oster A6 heavy duty pet clipper could be the ideal purchase.
You can check out more customer reviews about this Oster A6 dog clipper at Amazon here.