Make your dog happier with the Big Barker Pillow Top Orthopedic Dog Bed
The Big Barker 7″ Pillow Top Orthopedic Dog Bed offers great support, sublime comfort and also a good look which allows the dog owner perfect freedom of where he should install it.
There are a lot of dog beds out there who promise to offer some of those features but unfortunately most of them don't. The foam these beds use are made out of a poor quality material so it will lose its beneficial aspects quite rapidly.
Click Here for Best Current Price
Well, the Big Barker Pillow Top Orthopedic Dog Bed will solve most of those problems. It offers great support because it has very good quality foam that has three layers.
On top of that is also offers great comfort because the top and bottom layers of foam are made out of a really soft material that is made in America and that offers the same level of comfort those really expensive couches have. Lastly, it will look good because it is designed to fit in most homes without any problem.
Features and Benefits of the Big Barker Orthopedic Dog Bed
Specially calibrated for bigger dogs
American made foam
Foam will retain 90% of original shape
Won't flatten or pancake over time
Easy to clean, machine washable
100% Microfiber cover
Handmade in the USA by craftsmen
It has 10 year guarantee
Let's discuss all of these aspects in a bit more detail to better see the benefits of the Big Barker Pillow Top Orthopedic Dog Bed
The Positive Comments
1. Firstly, it is made out of really soft American foam that is guaranteed for up to 10 years. This means that it will not lose its shape for that period of time and it will continue to support your dog's bone structure for that time and even more. The foam is made out of three layers.
The outer layers are made out of a comfort foam that it's quite soft and it will take the shape of the dog in order to support it when it lays down while the middle layer is slightly thicker at 3 inches and it is made out of a support foam that it is quite a bit more rigid, so the dog won't sink in.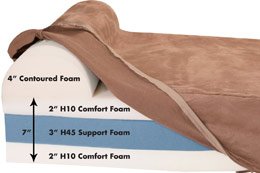 2. Another advantage of the Big Barker Orthopedic dog bed is that it is very easy to clean. The entire bed is covered in a soft fabric that has zippers in order to be easily removable. The cover can be machine washed with cold water, so you won't have to spend too much time doing the cleaning.
3. The bed is actually handmade which means it is of a higher quality than most products on the market today. Sure, because of this it is a bit more expensive but when you take into account the warranty of the product and the level of quality then it really isn't that expensive.
4. There are three sizes available for the bed. Take into account that if you own a smaller dog breed then this isn't suitable. The Big Barker Pillow Top Orthopedic Dog Bed will suit pretty much all of the bigger breeds because of the foam structure but the smaller reeds might have a tougher time using it.
5. The looks! I know some of you don't think it actually matters but some people actually prefer something that looks this good especially when considering the size of the bed. Also, because it is tweaked for a large dog a human wouldn't have any issues when sitting on it. Actually, it is really comfortable, both for humans and large dogs.
A Few Negative Remarks
We talked about the advantages and the strong points of this bed, now let's see what it could be improved.
The size. This isn't exactly a disadvantage mainly because if you own a large dog you probably own a big house but it might be a bit harder to find the perfect spot for it and it also might be a bit tricky for your to wash it.
The cover. There's no denial that the standard cover is great but if you have a dog that scratches then you should get a custom cover that will be able to withstand the scratches better.
Product Summation
In conclusion, the Barker Pillow dog bed is a great purchase both for you and for your dog. It will provide a great level of comfort for your dog and it will make it feel a lot better thanks to those three layers of foam that will support every bone in your dog's body!
You can check out more customer reviews about the Big Barker 7″ Pillow Top Orthopedic Dog Bed for Large and Extra Large Breed Dogs at Amazon here.