A Little Bit about the Andis 22405 UltraEdge Dog Clipper
Rearing your pet involves grooming it often which is one of the most rewarding things. It is also relaxing and fun. With the Andis 22405 dog clipper, the experience is all the more enjoyable.
It has an UltraEdge detachable blade which has the capability to cut at two different speeds, 4400 or 3400 strokes per minute. This makes the grooming safe and fast.
It has a powerful sealed motor which easily soothes even the sensitive animals. In addition, it can last for many years and you don't have to replace it every now and then.
Its internal parts do not require any greasing, oiling or any maintenance of any form. It requires no fan as it runs cool. This minimizes the risk that fur could clog into the fan and impede your grooming.
The Andis animal clipper withstands any chemicals that may destroy it. It has a nice handle that makes grooming comfortable for you and your pet. It has a locking switch which makes sure the motor does not go off accidentally.
Changing the blade is easy and quick. The Andis dog clipper comes with clipper oil, a one-year limited warranty and a fourteen foot heavy duty power cord.
Andis 22405 UltraEdge Dog Clipper is equipped with a heavy duty high speed motor which gives it the ability to run at a speed of up to 4400 strokes per min. it has a 25% more blade torque as it is has a 4X4 blade drive. This makes it the incredible ultimate grooming tool for pet keepers. Its power, versatility and control are of indispensable quality.
Its locking switch minimizes any risk of accident as a result of the unit accidentally turning off while in use. It requires no maintenance efforts. It can resist the common chemicals. It comes with the UltraEdge no. 10 blade and is compatible with the CeramicEdge blades and the Andis UltraEdge blades.
The product is warranted as are all other products from Andis. The warranties are limited for a year during which any defective units are repaired or replaced at no cost.
Andis 22405 UltraEdge Dog Clipper Reviews
Positive Remarks
Customers who have purchased this product appreciate its qualities. Some indicate that the clippers were recommended to them by professional groomers. It works well even for thick coated dogs which are normally difficult to groom.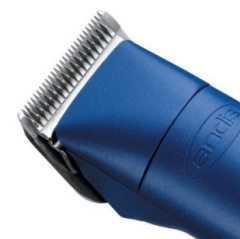 The high power of the Andis 22405 dog clipper makes the grooming fast. It does not make any loud buzzing noise. The blade comes with oil and is big enough even for those with big dogs.
Its compatibility with other blades makes it possible to swap between different blades as you groom different dogs with different fur.
Some Disappointments
A few customers are unsatisfied by the heat produced during grooming as the blades heat up quickly. Dissatisfaction comes from the fast blades which present some difficulty in grooming thick coated dogs. Others may have issues by being unable to contact service centers as they are not in all parts all over the country.
Overall, Most Consumers were Happy about their Purchase
The Andis dog clipper is an amazing clipper due to its qualities outlined above. Its speed, longevity and versatility are the answer to what many pet keepers are in search of. It always does a decent job and is great for both the dog and the groomer.
Check out more customer reviews about this Andis 22405 dog clipper at Amazon here.